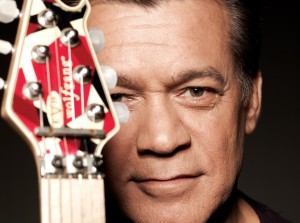 On Friday, February 13 Edward Van Halen was honored as part of the Smithsonian National Museum of American History program "What it means to be American" that seeks to explore the American experience. I can honestly say that I would not have a career in music if it weren't for the influence of Eddie Van Halen on me as a guitarist, musician and innovator. I'm glad to be alive and witness to his legacy that is being honored for what I've been saying for years now.
When I was eleven years old, one of the first albums I purchased was Van Halen's 1984. I had heard songs Jump and Panama on the radio, but when I listened to the B side, I was drawn to the gems near the end of the record: Girl Gone Bad, House of Pain, etc. What I would later come to realize, but could not articulate at the time, this album would essentially encapsulate everything that Eddie had accomplished as a rock guitar icon and song writer to date: the clever pop hit Jump featuring his first instrument – the keyboard, the now infamous two-handed tapping technique in Hot for Teacher, sampled sounds such as his Harley Davidson as an intro on Hot for Teacher, or the Lamborghini engine revs in Panama, and finally a song writing that reflected his maturity coming into full bloom paving the way for the lyrical work yet to come in 5150.
In any conversation about the guitar, particularly in rock music, one cannot have this discussion without including Eddie Van Halen's innovation and technique as it relates to the evolution of the instrument. After Jimi Hendrix, Eddie's concept and approach to the guitar transformed the way we play the electric guitar. In 1978 listeners had no concept or explanation of what they were hearing from that now iconic second track from their debut, self titled album Van Halen in the composition Eruption. Below is a complete video of the interview at his induction ceremony:
After watching this, I'm reminded of the fact that Edward Van Halen is by no means a perfect human being. There are his quite public personal struggles with alcoholism, a complicated marriage and relationship with actress Valerie Bertinelli, as well as other documented personality clashes with the singers of Van Halen. However, I think the real miracle here is that this man is still alive and growing more and more comfortable with terms "living deity", icon, and innovator. How many of these artists have come and gone before leaving this world far too early: Jimi Hendrix, Keith Moon, John Lennon, Curt Cobain, etc.?
My hope is – and this is simply in his DNA or not – that Eddie Van Halen will use this opportunity to demystify his persona, use this status and notoriety to share his story with more audiences. While it is true – Edward Van Halen will undoubtedly be included in conversations hundreds of years from now and his name in the history books as one of the geniuses of the art form. The real gift is in the form of this new founded generosity and humility of becoming comfortable in this role as a genius living among us in the present.
http://chadzullinger.com/wp-content/uploads/2021/01/logo.png
0
0
chad
http://chadzullinger.com/wp-content/uploads/2021/01/logo.png
chad
2015-02-18 07:15:58
2023-01-02 15:21:54
What it means to be American